Discover more from PhotoCamp Daily
Where every day is like a day at camp, PhotoCamp.
Fourth And Long
I once did a disruptive thing at a photo conference. The conference I ran for newspaper photographers usually had a variety of speakers intended to inspire better photography and create more cooperation between participants. I had a fairly good budget and often flew in a primary speaker that everyone was eager to learn from.
This year was different. The primary speakers were the attendees themselves who were instructed to bring the photographs from their latest or best personal project. A project they'd shot for themselves with no direct intention of it being for publication. It had to be a personal project with personal being the primary description.
Editor's Note: This is a series of photos made at businesses where workers watched the Ohio State-Michigan game, the Big Game.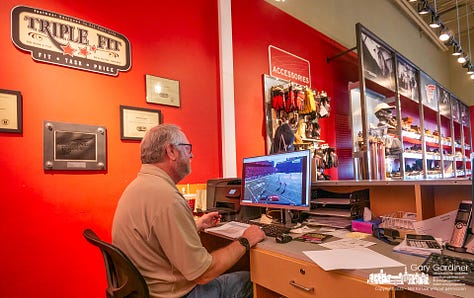 The projects varied from the simplicity of a school's enrichment programs to studies of disadvantaged citizens and an endangered nature preserve. All bore the importance of commitment to telling a visual story about a subject that intrigued the photographer. Every presentation expressed the excitement of storytelling photos just for the sake of making photos, personal photos.
Not every attendee brought a project. Some didn't have a project. Others thought their projects weren't yet complete and not ready to be seen. Several were angry at themselves because they realized their projects were better than some that were presented.
What was most important about this departure from normal conference presentations was getting local photographers to understand that personal projects are the foundation of effective storytelling. The passion for and dedication to creating a visual document about something important to the photographer translates into enthusiasm to discover more about subjects, to ask questions about the subject's lives and emotions, to question the results, and to wonder if there is more to telling the story than what has already been done.
There is always more to telling the story.
PhotoCamp Daily is always free!